Mira Elite ST went out of production in 2015. It was replaced with the Mira Elite QT. Please see below more information on the Mira Elite QT.
Replace your old Mira Elite, Mira Elite 2, or Mira Elite ST with a new Mira Elite QT supplied & fitted for €380.00 or €360.00 when you Book & Pay Online.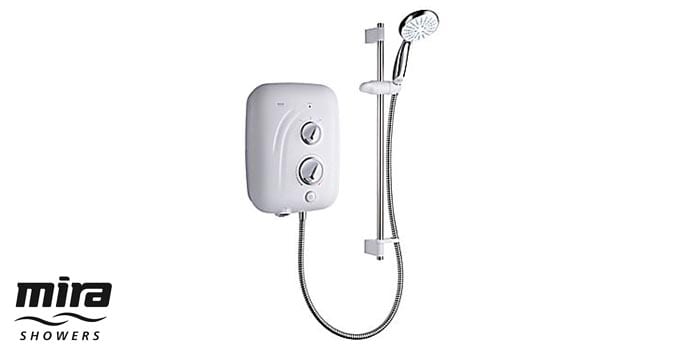 DeWAR Plumbers are running a special offer on Mira Elite QT Pumped Electric Showers when you Book & Pay Online:
The Mira Elite QT is 75% quieter than any other shower of its kind, without any loss of power. Its integrated pump ensures a strong, more consistent flow even at low pressure. The Mira Elite QT is the ideal choice for low pressure water systems.
Mira Elite QT (9.8kW) Shower Features:
Pressure stabilised temperature control keeps your selected showering temperature consistent.
Separate power and temperature/flow controls to fine tune your shower experience.
Push button on/off so you can leave the power and temperature controls at your preferred setting.
An integrated pump proves a strong and consistent flow, ideal for a low pressure water supply.
Mira Clean-flo™ technology ensures the filter is easily accessible for easy cleaning to maintain shower performance, ideal for a low pressure water supply.
Mira Clearscale™ technology reduces limescale by half for a better performing, longer lasting shower.
Four spray showerhead with rub-clean nozzles for easy limescale removal.
Energy efficiency class A.