Replace your old/broken Triton T80 with the new Triton T80z.
The Triton T80Z is a mains fed electric instant shower.
This is the electric shower you need if you're looking for a mains fed shower (This shower has no built in pump. Only about 1% of Dublin homes use mains fed showers).
Triton T80Z electric shower supplied & fitted €390.00 or €370.00 when you Book & Pay Online.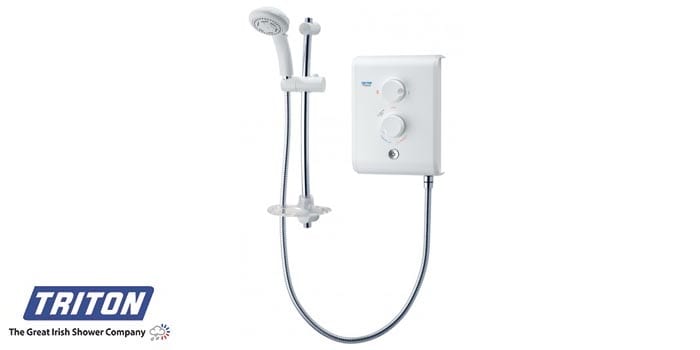 DeWAR Plumbers are running a special offer on Triton T80Z Mains Fed Electric Showers when you Book & Pay Online:
The T80 series is an iconic range of Triton showers in bathrooms for over 30 years. The T80Z is the first of a new generation, an evolution in terms of its sleek styling; a blending of curves and angles, but a chip off the old block when it comes to build quality, function, and durability. The T80Z White/Chrome is matched with a contemporary curved riser rail and handset that will set off any style of bathroom and be a focal point of beauty for years to come.
Triton T80Z Shower Features:
Features Double temperature protection – the outlet sensor activates to reduce the heating power if the temperature gets too hot and the second sensor turns off all the heating power under extreme operating conditions
Push button Start/Stop – to select your favourite shower setting every time
'Low pressure' indicator – operates when the water pressure is insufficient