MagnaClean Filter Installation to a Heating System
Sunday, May 5th, 2019
MagnaClean Filter Installation – Having a fully functional home central heating system with all of the latest technologies including high efficiency radiators, a condensing oil/gas boiler and state of the art heating controls is the key to running an energy efficient, cost effective and environmentally sound household. However, like all elements of any home heating system, these high tech components must be taken care of with the appropriate maintenance measures in order to guarantee that they orate at their peak levels of performance.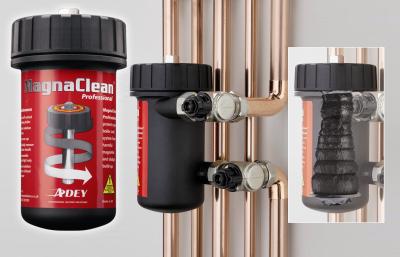 One thing which few people take into consideration when looking after their home central heating system is the build up of black iron oxide (a very specific form of rust commonly associated with heating systems). This is a natural process which, over time, will reduce the efficiency of a heating system. Very few heating systems are immune to its effects. What happens is, as a result of corrosion within your radiators and heating system related piping, small metal particles merge to form a nasty and thick black sludge clogging up the system. In some extreme cases, where the issue has been ignored for a significant length of time, black iron oxide build ups can lead to radiators and boilers becoming so clogged up that they become unusable (ie: gas/oil boiler breakdown).
MagnaClean Filter Installation
Having a MagnaClean Filter installed is one effective means of ensuring that black iron oxide does not take hold of your home's central heating system. Such a filter can be installed as an upgrade to an existing central heating system or incorporated into a new one as it is being installed. It is generally considered best practice to install the MagnaClean Filter between the last radiator in your heating system and the return point of your oil/gas boiler. This minimises how much black iron oxide can enter your boiler, prolonging its lifespan and maintaining its efficiency.
Specifically designed to remove built up iron oxide from a central heating system, a MagnaClean Filter is an electrically magnetised unit which is capable of removing the vast majority, if not all, of the iron oxide, found in radiators and oil/gas boilers. This leaves your central heating system running smoothly and efficiently, allowing it to operate at its optimum levels of fuel and heating efficiency which saves you money on your home heating bills in the long run. Having a MagnaClean Filter installed has been calculated to generate an annual saving of 6% off the cost of a home's central heating bills.
The best time to install a MagnaClean Filter is directly after you have had a Power Flush Service carried out. Power flushing loosens up and expels dirt and sludge from your radiators, cleaning out your central heating system. The MagnaClean Filter then finishes the job by removing any leftover black iron oxide, leaving your heating system running at its maximum levels of fuel and energy efficiency.
The presence of a working MagnaClean Filter will also negate the need for having more Power Flush services carried out in the future which will help you save a lot of money in the long run.
A professional plumber will be able to install a MagnaClean Filter quickly and easily once they have completed a Power Flush Service. Remember though, a MagnaClean Filter installation does not come as standard with a Power Flush Service so be sure to inform your plumber that you are looking for one when you are booking your Power Flush Service.
Much like your home's oil or gas boiler, a MagnaClean filter should be serviced once a year to ensure that it is working at its highest levels of efficiency. Be sure to mention that you have a MagnaClean Filter installed to your heating system when you are having your gas or oil boiler serviced so that you can have both done in the same visit.
If you are looking to have either a Power Flush Service or a MagnaClean Filter Installation (or both) carried out then feel free to call DeWAR Plumbers on our phone number 01 514 3300 or send us an email.
---